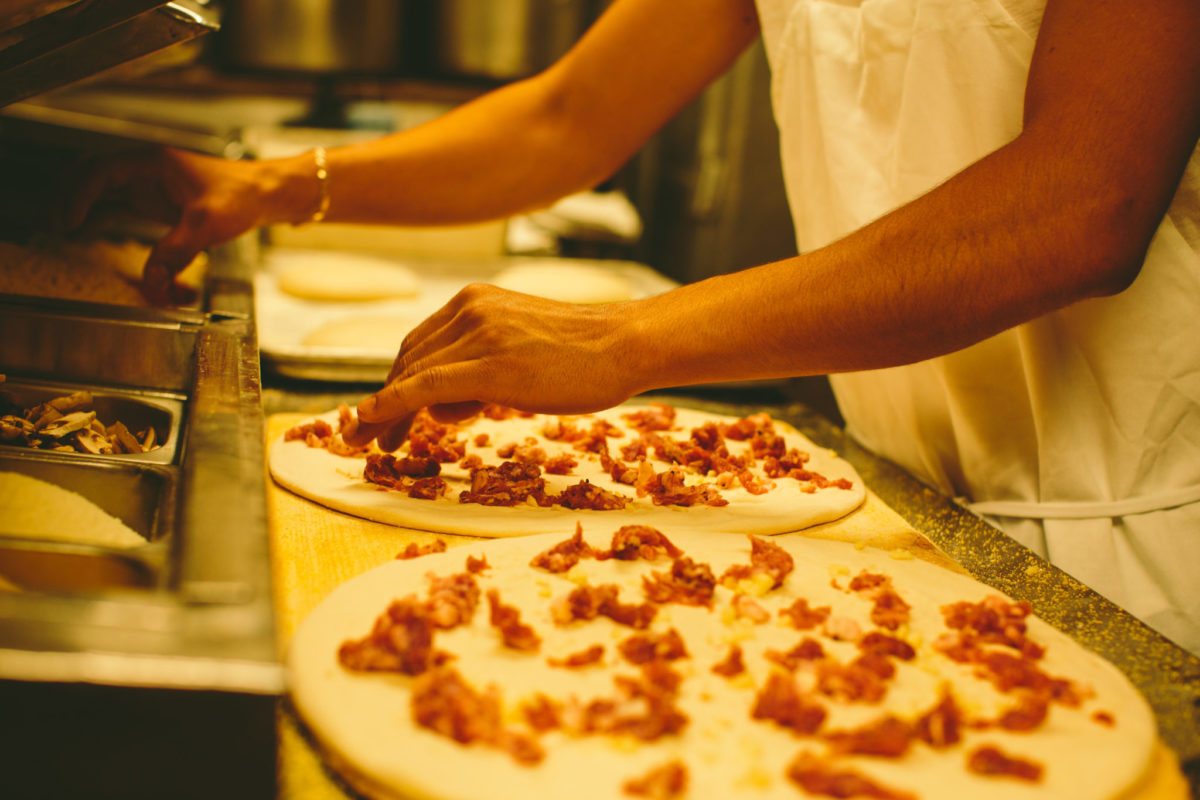 Santarpio's Pizza
East Boston × Peabody
$

11.50
Italian Cheese and Garlic
$

11.50
Italian Cheese and Onions
$

11.50
Italian Cheese and Peppers
$

12.50
Italian Cheese and Extra Cheese
$

12.50
Italian Cheese and Mushrooms
$

12.50
Italian Cheese and Hot Peppers
$

12.50
Italian Cheese and Olives
$

12.50
Italian Cheese and Broccoli
$

13.00
Italian Cheese and Anchovies
$

13.00
Italian Cheese and Pepperoni
$

13.00
Italian Cheese and Sausage
$

13.00
Italian Cheese and Ground Beef
$

13.00
Italian Cheese and Chicken
$

14 00
Italian Cheese, Sausage and Garlic
$

14 00
Italian Cheese, Ground Beef and Onions
$

14 50
Italian Cheese, Mushrooms, Onions and Peppers
$

16 00
Italian Cheese, Sausage, Mushrooms, and Peppers
$

16 00
Italian Cheese, Pepperoni, Garlic and Hot Peppers
$

16 00
Italian Cheese, Chicken, Broccoli, & Garlic……(served white)
$

14.00
Shrimp Scampi……(shrimp and garlic served white)
$

18 00
The Works - Without Anchovies
$

19 50
The Works - mushrooms, onions, peppers, garlic, sausage, pepperoni, extra cheese, anchovies
$

1 00
Onions, Peppers, Olives or Garlic (Each)
$

2 00
Hot Peppers, Mushrooms, Broccoli or Extra Cheese (Each)
$

2 50
Sausage, Pepperoni, Chicken, Ground Beef, Shrimp or Anchovies (Each)
TRY ANY PIZZA WHITE-NO SAUCE
$

5 25
Garden Salad with Homemade Vinaigrette
$

9 50
Single Skewer of Choice Lamb
$

9 50
Single Skewer of Steak Tips
$

8 50
Single Skewer of Chicken Tips
$

7.50
Single Zesty Lamb Sausage
Served w/ hot cherry pepper & fresh baked Italian bread
$

5.00
House Wine(Chablis or Burgundy) 10 ounce glass
$

9.00
House Wine(Chablis or Burgundy) - 1/2 Carafe
$

14.00
House Wine(Chablis or Burgundy)– Carafe
$

17.50
Chianti, Sensi - Bottle
A young Chiani, easy to drink and suitable with meats & pasta.
$

17.50
Merlot, Villa Cornaro – Bottle
Smooth and soft with berry and floral flavors and goes well with meat.
$

17.50
Pinot Grigio, Villa Cornaro - Bottle
Delicate with fresh aromas and a hint of melon.
$

17.50
White Zinfandel - Bottle
Light and fresh with watermelon and citrus flavors.
Budweiser
Amstel Light
Blue Moon
Budweiser
Heineken
Bud Light
Coors Light
Heineken
Miller Lite
Labatt
Michelob Ultra
Miller Lite
Peroni
Miller Genuine Draft
O'Doul's
Peroni
Sam Seasonal
Rolling Rock
Sam Adams
Sam Seasonal
Not all beers offered at both locations.
East Boston
111 Chelsea Street
East Boston, MA 02128
617 - 567-9871
HOURS OF OPERATION
Monday-Thursday
Serving 11:30a.m-11:00p.m.
Friday and Saturday
Serving 11:30a.m.-11:30p.m.
Sunday Serving
Noon-11:00p.m.
All Prices Subject to Change
Cash Only
Peabody
71 Newbury St (Route 1)
Peabody, MA 01960
978-535-1811
HOURS OF OPERATION
Winter Hours
Sunday through Wednesday
11:30a.m.-9:00p.m.
Thursday, Friday and Saturday
11:30a.m.- 10:00p.m.
Delivery Available through Door Dash
All Prices Subject to Change
SANTARPIO'S PIZZA
FUNCTION INFORMATION
PEABODY LOCATION ONLY
OPTION 1
Cheese and one topping pizzas, with salad and soda.
$ 14.00 Per Person
OPTION 2
Cheese and one topping pizzas, with salad, soda and one skewer of meat of your choice.
$ 20.00 Per Person
Alcohol, bottled water, juice, two or more topping pizzas and additional barbeque items will be added at menu price.
Party room comfortably seats 32 people. (Minimum of 24 people)
$100.00 Non-refundable deposit required one week before function.
Tax and gratuity are not included in price.
There is a 3 hour limit. A room fee of $100.00 will be added for each hour after limit.
Children 12 years old or younger will be charged OPTION 1 price.
Bring disposable plates and utensils if cake or dessert will be served after your meal.
Decorations may be brought in and must be removed. Balloons are allowed but must be tied down and are not allowed to touch the ceiling. Confetti is NOT allowed.
SANTARPIO'S PIZZA
71 NEWBURY STREET PEABODY, MA 01960
978-535-1811

We Accept Cash, Amex, Discover, Mastercard, and Visa